this is what our customers say about Adoro Silent Sticks:
Just got a set and have to say after 50 years of drumming and spending a small fortune on hot rod sticks to be able to play quietly with attack and energy these silent sticks are great with a fantastic cymbal response If you need to play at low volume you need these as an alternative in your stick bag
Received mine in a timely manner even with the postal service being so backed up with volume. Love the sticks so far, would love for them to have a little more rebound, but with the way they're designed I don't see that being very alterable. Great product! May have to check out the silent beater soon 🤔
I tried Silent Sticks out this weekend with my band. I usually play my e-drums when we rehearse, but we have started booking gigs again, and have a show at a small bar and grill in 3 weeks. It's too small IMO for my acoustic drums, but I hate dragging my electrics to a gig. Anyhow, ordered Silent Sticks, set my Luddies up, and we had a grand rehearsal in my garage! I am ordering another pair today!
Enjoy playing with your Silent Sticks especially on those days when Diabetic Arthropothy and Arthritis "creeps up", Lol. Thank You So Much! Aloha. Take Care, Stay Safe

Playing drums low volume has never been this easy! Forget low volumy cymbals, mesh heads, rods, e-drums – simply change  sticks & beater and play 80% less loud.
Even more, we refund your purchase when you are not 100% satisfied*. Check it out today!
*) to qualify for refund, return the sticks within 14 days after receiving. No strings attached.

Wherever volume is a concern, play Silent Sticks and Silent Beater!

We offer 4 different models:
Want to reduce the volume of your (e-)drums and pads? With 16.5mm shaft the stick has the same thickness at the handle as a regular 5B stick. This is our sickest – err, thickest stick ever! Coming in a flashing red, with a softer tip that is specially adjusted to the bouncy mesh heads and pads. Rubber anti-slip X-Grips pretty much eliminate losing sticks during rapid timbal fills or busy clavé patterns. Check out what our artists Scott Pellegrom can do with these sticks!
...and two bass drum beater
The Silent Beater with fiber shaft has a small head that delivers low volume with punch. Or, add the shock-absorbing impact pad (included) to further soften that punch and lessen the volume even more. Great also for cajons.

Fits all bass drum pedals.
The SSX Sticks are ideal for acoustic drums and cymbals and great on anything else, the firm nylon Dual Loop Reflex TipsTM of this model bend slightly upon impact to cut volume yet also deliver surprisingly crisp attack and definition with a natural feel.
Product comparison - what's different?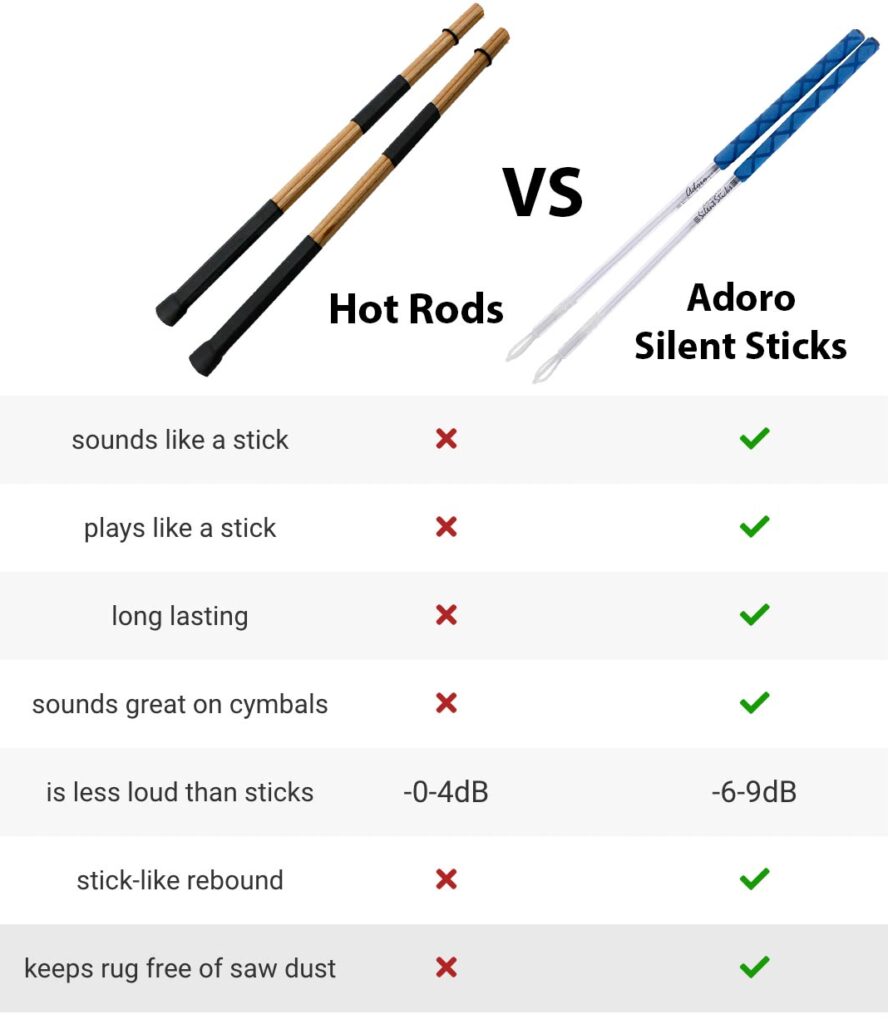 You will be surprised how much better you can play low volume – and kee a great sound – using Silent Sticks & beaters.
To improve your drum sound when playing low volume, here are 7 great tips for every drummer

Product comparison - what's different?
Silent Percussion Sticks (ASS) – 11mm shaft (click to buy)
Silent Sticks Thick X-Grip (SSX) – 14.5mm shaft, hard grip (click 2 buy)
Our best selling silent stick, for a firm grip. About the size of a 5A Stick
Silent-E-Sticks (SSE) – 15.5mm shaft, soft grip & tip (click 2 buy)
Great for hard rubber pads, but also for drummers struggeling with wrist issues.
NEW: Scott Pellegrom Signature Sticks (SPS) – 16.5mm shaft and soft grip (click 2 buy)
– our thickest stick, also great for drummers struggeling with wrist issues.
why
Silent Sticks &
Beater?