Silent Sticks in style – with sales display
Retail only. Please enter your individual dealer code when ordering for the retail rebate.
As seen on TV: June 24 Silent Sticks will be presented to a million audience at prime time at UK Show "Dragons Den" on BBC One – together with the incredible ToneAlley!
Profit from our success with Adoro Silent Sticks! Our Sticks and Beater reduce drum volume by a whopping 80% (on e-drums they reduce the whack of the pads and improve the longevity of pads – especially kick and cymbal pads!). Lasting way longer than rods, up to 10dB less loud than regular sticks.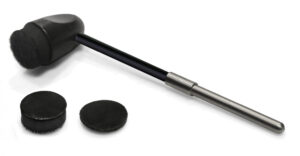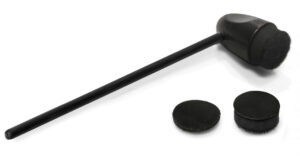 Music schools love to use Silent Sticks in classes. At this price point they also are a great gift for drummers. The most asked for feature of drums – are there any less loud? – is now an option for your customers. With the free Stick Display these Silent Sticks certainly will become the next sales hit!
Adoro Silent Sticks belong into every drummers' stick bag! Not to replace your regular sticks, but as a great option to easily switch to more quiet play at practice, small, intimate gigs, recordings, worship services, you name it. And while rods promised us to be more silent, the Adoro Silent Sticks actually keep that promise!
Entry offer: for each dealer we offer a set with
• 10 different pairs of Silent Sticks
• two Silent Beater and
• wooden Stick-Display. Your price: $130.20
(While supply lasts)